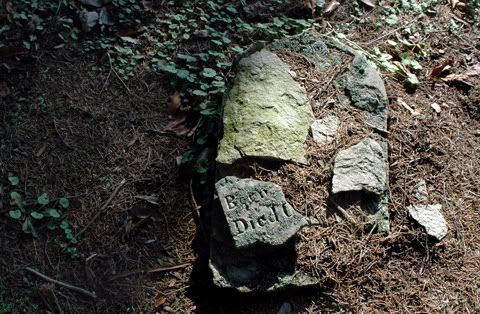 Last weekends trip to Tennessee could be titled, The Sixth Sense Tour. Apart from the time spent celebrating a second cousin's wedding, we spent alot of time in cemeteries. In reference to the movie, I saw alot of dead people.
This badly weathered stone lies in our Nesbitt family cemetery in the Shiloh/Palmyra area. We are well acquainted with this place as this is my mother's family plot. It was founded and lies on the land that was home to my great-great grandfather, Samuel Nesbitt.
For years we've been trying to ascertain the location of the older plot, where my great-great-great grandfather Robert Nesbitt is buried. My mom and sister had been there years and years ago but couldn't remember the area where it stood.
Using information from a book written about our family in the 1960's, and further digging on the internet provided the area in which the four Nesbitt brothers settled in the 1790's. It lies only about a half hour from this spot. We were on a quest.
All that's left of this old marker tells it all - - born....died. Everything in between is the stuff of which history is made.