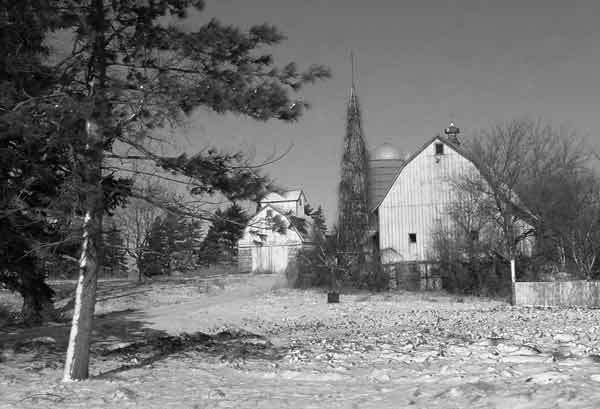 If you had been raised in northern Illinois you could certainly fill in the blanks when you viewed this photograph.
Your mind's eye could replace the things that are missing, the vanes of the windmill and the livestock in the barnyard. The vines choking the windmill structure could easily be erased and the extended property mowed and clean of brush.
This could be true if you'd seen this particular barn or not because if you hadn't seen this one you'd seen a thousand just like it. This is a lifestyle that has passed and I'm not quite sure exactly when the final moment came. For now it's standing and decaying at a rate determined by nature.
One of the first photos I ever posted on the Farmer's Wife is still one of my favorites. It's a
jacket hanging on a line
in the barn that once stood on Empire Road. The farmer simply walked out of the barn one day and never returned. The barn has been demolished and the wood used to build a nature center south of here.
And so it goes......