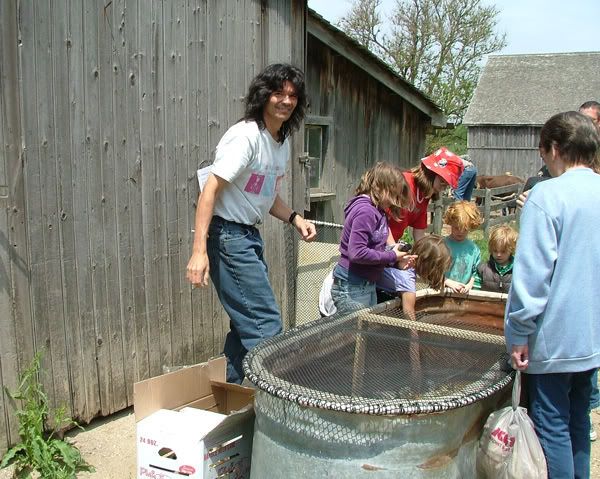 This is Tim Christakos who is an exhibit specialist at the
Museum of Science & Industry
in Chicago, and someone you should know.
Anyone raised in the greater Chicagoland area would have at some time or another in his educational experience visited the museum on a field trip. One of the most popular exhibits is the
chick hatchery
where live chicks emerge from their shells. In 1999 the Museum became aware of the Garfield Farm flock of Java chickens and their efforts to conserve the breed. The museum offered to help hatch eggs and as a result helped to produce over 2,000 black Java's. These chickens exhibited recessive traits and the first to appear was the white Java which was last recorded in the 1950's. In the year 2000 a female hatched with recessive traits including a auburn head and black body. Research gave clues to the existence of an Auburn Java which had gone extinct in the 1800's. The later hatching of a rooster with auburn hightlights provided Tim with a breeding pair and eventually this pair produced some auburn colored chicks.
The mature pair of spectacularly colored Auburn Java's at Garfield Farms Rare Breeds Show were 3rd generation and exhibited the markings and colorations described in historical literature.
Tim worked for three years to produce these spectacular birds. His work is fascinating but at this time there are only 8 auburn Java roosters and 4 auburn hens. The pair were safely tucked in a cage which did not allow for a good photograph of their beautiful colorations.
I'm very grateful for Tim's work to save this breed of fowl.