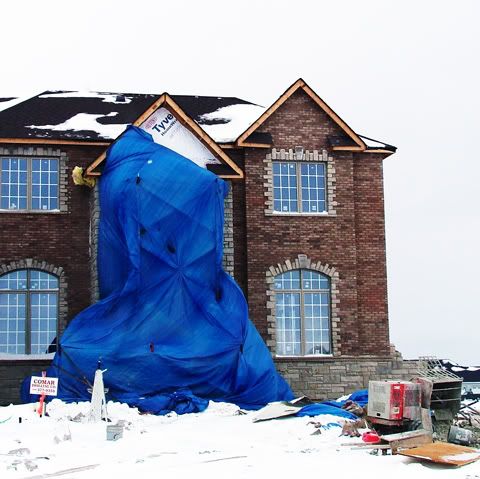 I think people out in the country appreciate art as much as the next guy, but it's not anytime soon that Christo and his wife will erect giant umbrellas in the soybean fields, or ring the cattle ponds with pink fabric.
We'll have to be satisfied with a home-grown form of artwork - a huge fallow cornfield dotted with McMansions-in-progress wrapped in blue plastic. There are a dozen or so just a half mile from here. The entryways framed in scaffolding and bright blue plastic protecting the tradesmen as they apply any number of decorative stonework touches.
It's a bit jarring to drive around the bend and see all this garish blue plastic in a landscape of white and brown. Maybe Christo would approve, perhaps not ... since it didn't begin as a "concept".