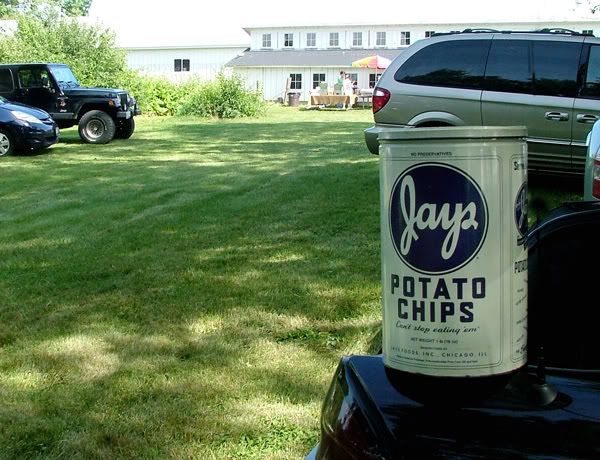 It's sometimes hard to live far afield from the place you call home. When I lived in Texas I always felt like a fish out of water. The landscape, the food and the culture seemed alien to me. After time my deep appreciation for the United States of Texas grew and after moving back to Illinois I was suprised to find myself missing Texas.
The day that Garfields Farm's Barn Sale was featured here on the Farmers Wife, a reader from Florida had spotted a Jay's Potato Chip can among ALL THAT STUFF. Amazing what our eye and brain will make a connection with. It made her homesick and it's something we can all relate to. Just the sight of a potato chip can reminded her of home.
Jay's Chips have been made in Chicago since potatoes were invented. I'm too lazy right now to find a link but I'm sure they have information on their history.
So there's the can, soon to be on it's way to a new home in Florida.
This is just a taste of the barn sale. We'll be rushing out the door in a short while. The neighbors are having a big pig roast today.
There are two things you need to know about midwesterners:
1. We're not afraid of hard work.
2. We love food.
.....more later!