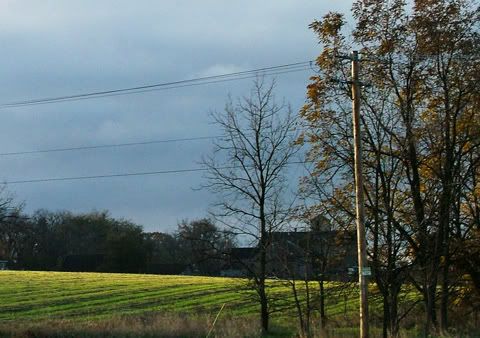 A bright sun rises above the horizon and light pours over a hayfield at Garfield Farm. The field literally glows a bright green. The harvest is winding down and the snow will soon be flying across the open fields.
Cornstalk stubble is no longer plowed under at the end of the season. The standing dry plant material catches snow and provides additional moisture as it thaws.
To all my loyal viewers/readers, I ask you to be patient as I'm having some computer woes (again), Photoshop has been affected by that ghost in the machine, and I'm off to Tennessee for some R & R and a visit to the family cemetery plot. There should be some interesting images of the place - graves going back to long before the civil war. We'll be on a hunt to find the original cemetery which holds the remains of the four Nesbitt brothers who served in the Revolutionary War and were paid partially in land - making them some of the first white settlers in Tennessee. Stay tuned.