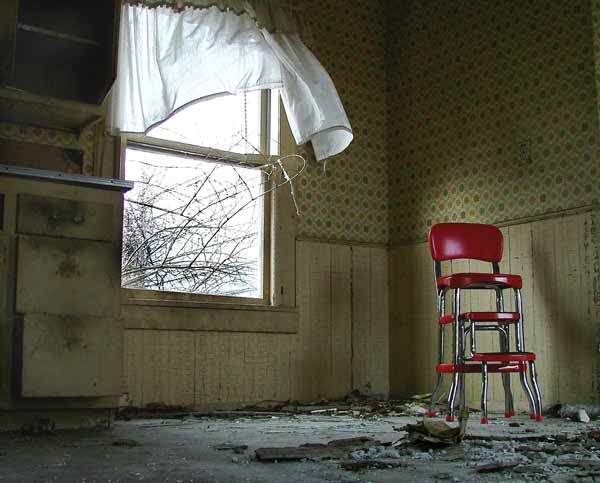 A vintage red stepstool shot inside the old farmhouse on Hughes Road. The deterioration has changed the place since the last time I visited.
This photo is an entry for
Thursday's Spun With Tears Challenge - "Furniture"
Follow the link, scroll down and click on each entry to view the photos.
W
hat's involved in producing an image:
The above image was a result of a photo shoot at a local farmhouse that is in a very advanced stage of decay. I'm always aware of the inherent dangers of shooting in these locations. There are hidden wells and cisterns, sometimes the covers are missing and covered with vegetation. The house itself poses danger. I did venture onto the second floor one time, but the flooring was not safe so I haven't been back up there. The basement....well, I'm a little too spooked to venture there.
I brought the vintage red stepstool with me and dragged it up the muddy driveway. I felt the strong color would work well against the aging wallpaper. I took approximately 130 frames, moving the stool around the room, changing exposures, shooting from the floor, through the broken kitchen window from the outside and every combination you could imagine. When I returned home that meant I had 130 images to cull through, choosing the one I felt were most interesting. Omigosh, I could never work as a photo editor, the choices would fry my brain! After choosing 6 images I processed the photos and came up with this image.
I liked the way the stool was highlighted by the light from the window, casting a shadow on the wall. The curtains were billowing in the strong breeze throught the broken window. The light from the window is very strong and bright which would normally mean that your eye would only be drawn to the strong white, but I felt the red was vivid enough to hold it's own in the image.
What do you think?