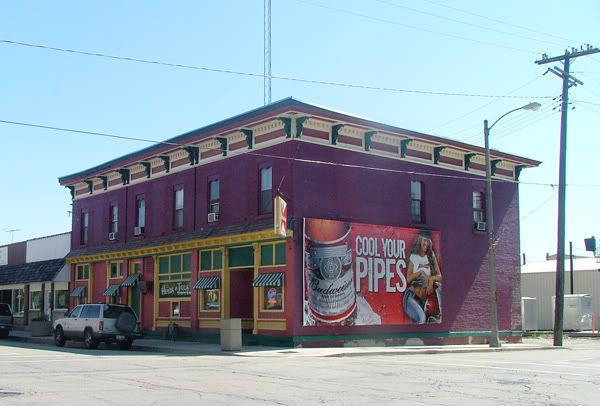 It's been a number of years since I drove through Plano (Illinois, not Texas). A month or so ago I was made aware of a photography contest sponsored by a number of groups; Citizens Against the Sprawlway, Friends of the Fox River, Kendall Citizens for Farmland Protection, Valley of the Fox Chapter of the Sierra Club and Aux Sable Creek Watershed Coalition. The contest is entitled, "What We'll Lose" and the images are to emphasize what will be lost if the billion dollar Prairie Parkway highway project is constructed.
As loyal readers know, this is a subject close to my heart. It is, in fact, one of the premises of my blog - recording a rural way of life that is being paved under by rampant development.
Unfortunately, due to recent weather related issues here at home I've been unable to schedule the drive down to Plano. But the deadline for the contest loomed large and so with great anticipation I drove down Route 47, planning to spend a morning getting shots and an afternoon and evening editing and cropping. (No other adjustments allowed in this contest).
There are three categories in the contest - Agriculture, Rural (small town life), and Environment. Basically I came back with a few images but in reality, empty handed.
The very sad truth of the matter, and the only "story" I could find to tell was that it's
already
too late. It appears the genie is out of the bottle and has been for years. Huge swaths of farmland are blanketed with tract homes in subdivisions with names concocted by clever marketing departments. "Churchill Farms" employs a large barn to stake it's claim to the once green soybean field, now covered with a new crop of homes. Strip mall after strip mall line both sides of Route 34 and a large center with a Kohl's and Target have sucked business out of the downtown area.
Driving up and down searching for a viable working farm was an exercise in futility. Corn cribs rusted in the bright sunshine and other farmhouses had obviously been renovated into executive digs. Perhaps I simply didn't drive down the right roads.
The downtown area of Plano had a nice small town feel but my photos seemed uninspired. On to the "Environment" category.
I found a cool spot on the edge of town where there was a one-lane bridge. It crossed the Big Rock Creek and there was an architecturally interesting bridge in the background. Unfortunately the "too late" point was drive home again as this idyllic spot was covered with huge paving equipment, literally belching fire as it puffed it's way across the bridge, black stinky smoke obscuring the lovely view.
I was saddened by the trip and it's implications for those who seek to preserve a culture and a way of life. I'm saddened for the organizers of the photo contest because it appears the fabric of the area has already changed. If the Prairie Parkway is not built how will this narrow swath of land be saved from housing and retail developers?