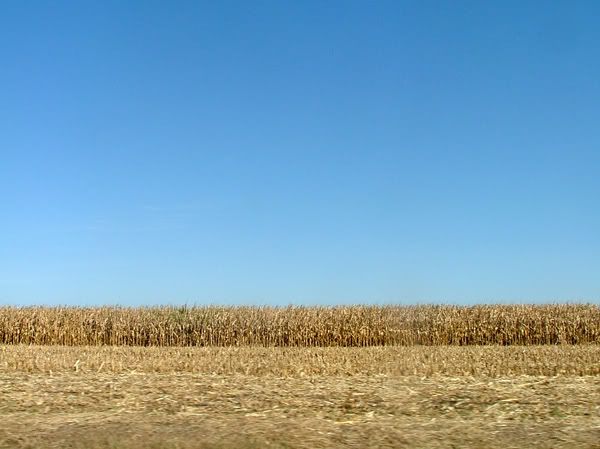 I'm sure that some readers will sigh and say to themselves, "Oh no, more corn!", but this is a view that holds some kind of magic for me. Being raised in a concrete carpeted suburb of the big city by the lake (Chicago) made me claustrophobic. On Sunday drives in the country with our family (remember those?) I was mesmerized by the open fields of corn and soybeans.
Although this isn't the real big sky country, it's close enough for me.
A friend of mine was visiting from Oklahoma one summer. Weather conditions had created a Godzilla corn crop that year - some stands upwards of 10-12 feet tall. On our way to town I drove her down a narrow back road running through a gauntlet of this huge corn. It was a literal tunnel of corn, green and squeaking. She seemed uneasy and turned to me and said, "I'm going home tomorrow. This corn is scaring me and it's way too green here."
Well, that's a novel way to get rid of a houseguest - drive them through some scary corn!