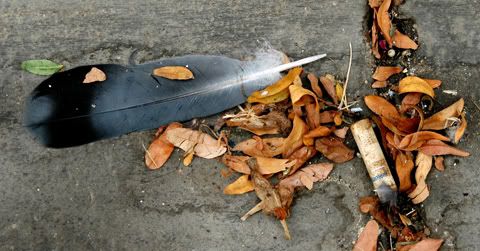 As a kid I had my share of bruises. It wasn't that I was particularly clumsy but I had a habit of looking down at the ground when I walked, increasing the possibility of crashing into something. I'm not quite sure how this habit developed but it only got worse when I found a five-dollar bill on the sidewalk.
I found all kinds of things - jewelry, a wallet, and lots of lots of feathers. I'm not quite sure if birds drop that many feathers, or whether they just find their way to me. At some point I decided the feathers were a sign, of what I was never sure, but a sign nonetheless.
After a particularly horrible day at work there was a feather on the ground. Bending over to pick it up I smiled, taking this particular feather to mean, "Take a deep breath, nothing is that serious." A white feather awaited me as I stepped out of the car to keep a doctors appointment where I was given the results of a test. The news was not good but I sat in the car with the feather in hand, cried for about 5 minutes and said to myself, "Now, what? What are you going to do with this information?"
Whether you choose to believe it or not the most freeing thing that can happen to you is when someone says, "You have a chronic illness that will probably eventually kill you." Whew. That's a sentence alright. We all know we're going to die, we just don't know when. It's a nebulous thought rattling around somewhere in the back of our mind, but when the thought presents itself in earnest and crystalizes....what comes from the depth of your being is, "If I'm really going to die, then I'm really going to live."
Alot of my life was spent in fear - fear of getting sick, fear of flying, fear of losing a job, just one big bundle of fear. That one sentence blew everything apart and for the first time in my life I began to live - really live, with joy and excitement about what the next day would bring.
Eight years into the journey with the wolf, Lupus, and pushing through the physical problems is a challenge, but it's one of the best things that every happened to me.
The feather I found that morning is taped in my journal. Look down, find a feather, there's a message for you there.