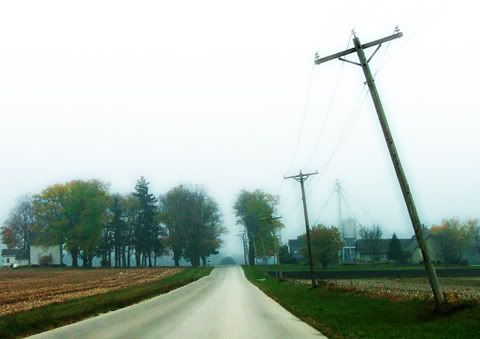 At this point things will get interesting at the Farmers Wife. The blog was born in April with the thought of posting at least one photo per day. There are those times when I'm "gone fishing", but the stats tell me I've entered 263 posts, some days 3 or 4 photos, more than making up for skipped entries.
And now we have - daylight savings time. I'm not quite sure exactly what daylight is being saved, because it's not very light when I leave for work in the morning and very dark when I return at night. I would stop many times on the drive home to take photographs. Now I'll be relegated to shots on my lunch hour or weekends. Let's see how many times I'll be digging in my unpublished files for something to post.
This is the other end of Pouley Road, on a misty grey-bright morning. I usually avoid this route as small town police lay in wait to hand out tickets for any infraction, including not having a front license plate. When the train goes through in December, and the building boom hits the town like a tract home avalanche, they'll have plenty to do - real crime will come as a gift of civilization.
It's probably a good idea to stay off this road, until which time they decide to correct the orientation of this pole. A good wind from the west and it will be history.