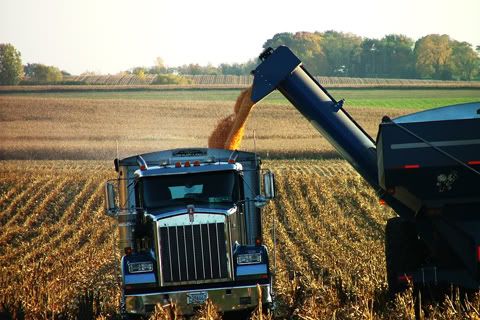 Harvested corn flows like gold into the 18-wheel grain hauler. The operation is choreographed like a ballet. A holding vehicle runs alongside the harvester at some point, accepting a download of grain. It then drives to the edge of the field and downloads the grain again, this time into the hauling truck.
The grain flow so freely and undulates like a ribbon of gold. I found a safe place to pull off and park my car and walked across LaFox Road to take some photographs. The county Sheriff stopped and asked me if I needed some help.....saw the camera and said, "Have a nice day".
I will try to post every day, but my computer is having major woes again. So if you've seen I've "gone fishing", don't fret and don't forget - like Arnold said, "I'll be back....."