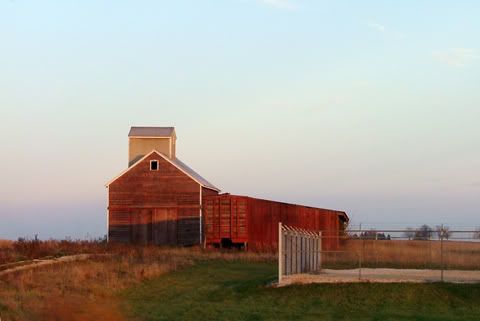 This small barn is probably all that's left standing of a farmstead and was probably used as a utility or equpment storage shed. It stands at the edge of 250 acres of cornfield, which in itself is unusual. Most barns and outbuilding stand cozied up to the farmhouse, creating a small farm compound.
This small building is in very good condition and sports a coat of deeply red oxblood paint, the color of dark penny loafers. Barns in this area are painted white (mostly with green trim), a brighter barn red and even one farmstead that has a barn and three other buildings painted a shade of pinky mauve. My guess is that the farmer had some red paint and white and mixed it all together to get the job done. The older barns have lost all hint of paint except for under the protected eaves, and they shimmer the pearly grey of weathered barn wood.
They are all in various states of disrepair. One beautiful small barn imploded into a heap, with ends upturned to the sky. A storm blew through a week ago and it collapsed.