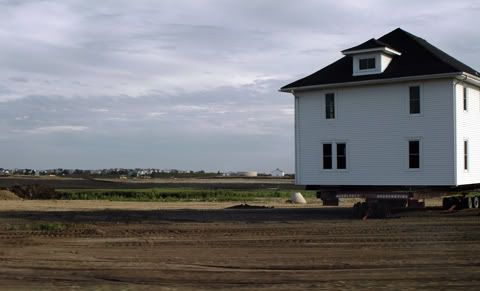 We've been following the fate of this farmhouse. Honestly, I never much noticed it as I passed by each day. It was a nice farmhouse surrounded by large trees, barn and outbuildings. Then one day the developers cut down all the trees and the house stood shockingly exposed to the elements. It was a very dramatic event.
Next the earthmovers came in and began transforming the acreage from soybean fields to barren landscape. The barn was razed in a single afternoon and the land was neatly carved around the house leaving it to stand like a stranded white wedding cake. At this point it was obvious, and a local resident confirmed to me that the house was to be moved to a nearby location.
The house movers arrived to remove the foundation, leaving the house to stand for awhile on stacked timbers. Somehow the structure was mounted on wheels and it now awaits moving day. I'm not quite sure when this will occur, probably on a weekend. It would be fun to photograph, as I've already captured a large country store that was moved down our road.
I'm happy that the home will have a new life, hopefully surrounded once again by huge oak trees.