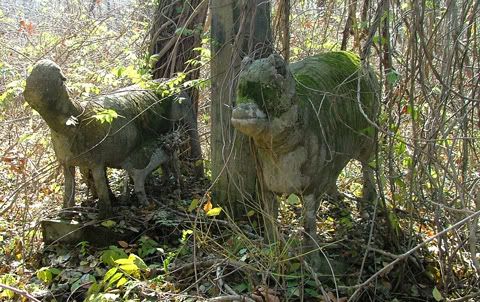 The two lambs stand at the feet of the large
Fatima
figure that stands atop a very tall pole at the center of what was once E.T. Wickham's central courtyard.
This site just gets your mind to turning about the once-upon-a-time newness of it all. Someone once said that a garden is the antithesis of nature - that man controls and remakes nature to his plan. But left to her own devices, Mother Nature has reclaimed this place, causing the lambs to grow wooly coats of moss.
In this area, without the reference of photos and commentary of it's history and intention, you are left to fill in the blanks...connect the dots. Some pieces are missing and some are simply missing limbs.
But in the end, E.T. Tanner's place is an awesome look into the mind and creations of a man driven by his passion.
If you want to visit, the park is located in north central Tennessee, outside of Clarksville.
Thanks for traveling along on the Farmers Wife Road Trip and Sixth Sense Tour!