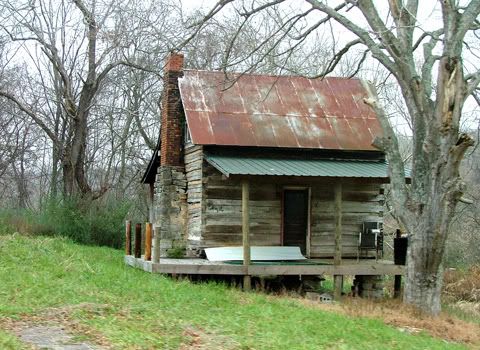 This photo makes me smile for several reasons. It's the log home built by my great-great grandfather, and just a short distance from the cemetery where he's buried.
It makes me smile also because it is very similar in style and structure to the sharecroppers shack that my mom, my brother and I lived in when my dad was serving in the Korean War. My uncle had offered us the sharecroppers place rent free, allowing my parents to save money for a home after my dad was discharged.
The sharecroppers place differed in that it was built with board and batten rather than logs. But the tin roof was the same and I remember it to be a nice, cozy home. No indoor bathroom, running water only if you pumped it by hand, a beautiful fireplace and lots of chickens making their home under the house. Good memories.
The photo also makes me smile because it reminds me of the B-52's "Love Shack"......
Tin roof.........RUSTED!