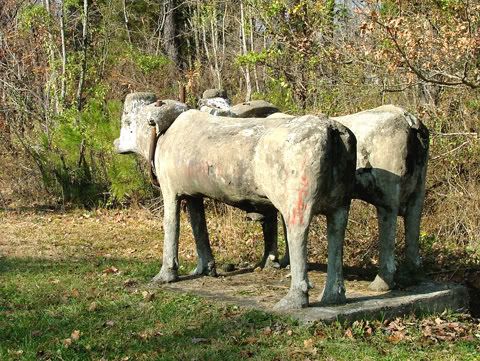 This nearly life-size team of concrete oxen aren't going anywhere. They represent the pioneers who settled this land. A farmer would never be able to put much food on the table without the help of a team of oxen. They were the literal "horsepower" of the age. To see how they appeared in the day visit the site created by E.T. Wickham's grandson....
Wickham's Stone Park.
If you're anywhere near northern Illinois you can learn to drive a real team of oxen at Garfield Farm and Museum. The class is held in the spring of the year and it's probably one of the "Ten Things I Want to Do Before I Die". Size doesn't matter with oxen, they are commanded not by brute strength, but by voice and body movements. It's a fascinating day spent in the country. Contact
Garfield Farm
for more information. I'd love to come out and take photos of your session with the team.