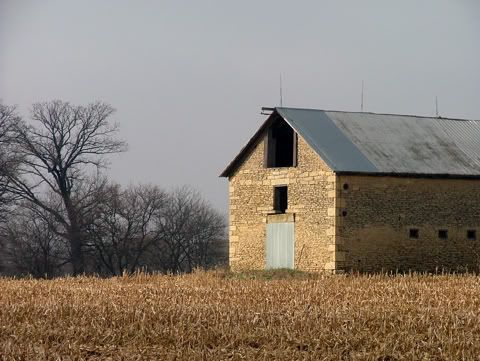 Many thanks to my co-worker and scout - Matt. He travels the roads of northern Illinois and eastern Iowa for the company and serves as my scout. He's a student of history and is always on the lookout for interesting buildings and locations for me to shoot.
This is a very unusual stone barn that he spotted heading down I-39. I must have passed it many times myself but it's a smaller building and for some reason I've missed. Earlier attempts at capturing it failed mainly because the very healthy corn crop obscured it from view.
I suppose that stone barns and outbuildings are not uncommon on the east coast, but here in the midwest it's almost unheard of. In fact in all my travels on the highways and byways of Illinois, I've never encountered another one. Limestone buildings are common in the towns that line the rivers - such as along the Fox River or the Rock River, but this is far from those locations.
An interesting fact is that it stands about 3 miles from the center of Troy Grove, birthplace of Wild Bill Hickock.