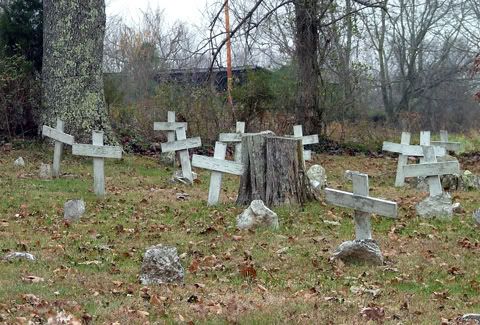 My sister had visited the older Nesbitt cemetery years ago. Time had erased all the details of its location, but she did remember it involved a walk away from the roadway and it was on a hill. We've made half-hearted efforts over the years to find it, but now we've found ourselves in a situation where all the family old-timers have passed away themselves. (Note to self: Never let an opportunity to record oral histories slip away...and record your own oral history).
We do have great-great-great grandfather Robert Nesbitt's last will and testatment and if his wishes were followed he was buried on his nephew Allen Nesbitt's place, high on a hill overlooking Barton's Creek outside Charlotte, Tennessee. One of the older cousins told us there was a historical marker on the road in front of his original homeplace. His home was the place where Dickson County was formed, carved out of two other couties. It was also the scene of the first court held in the county.
So on Sunday we headed out to Charlotte, unaware of the exact location of Barton's Creek. We poked around two cemeteries in town and then headed to the only gracery store to see if anyone knew where the creek location. Luck had it that we ran into the town paramedics who grabbed a detailed map out of their truck....thanks guys! We spent part of the day driving up and down Barton's Creek Road and Fagan's Chapel Road, looking for signs of a old burial place. Even though the leaves were off the trees it was difficult to see through the heavy forest and undergrowth. Barton's Creek Road is not an exceptionally long stretch, but since the cemetery is said to be well off the road and the creek switches back from one side to the other, it could prove difficult to find.
It was a cold day and a Sunday so there didn't seem to be anyone outside to ask - perhaps a long time local would know the spot.
We found this small graveyard called "Lane Cemetery" on Fagan's Chapel Rd. It was on a hill overlooking Barton's Creek and there were several Nesbitt markers and many graves with seriously degraded headstones, but no clues that this might be the spot. In an attempt to mark the resting places someone has erected small white crosses. How unusual is it for direct descendants of the original pioneers to still live close enough to maintain these resting places?
Tomorrow the story of how two sisters refuse to give up the search......