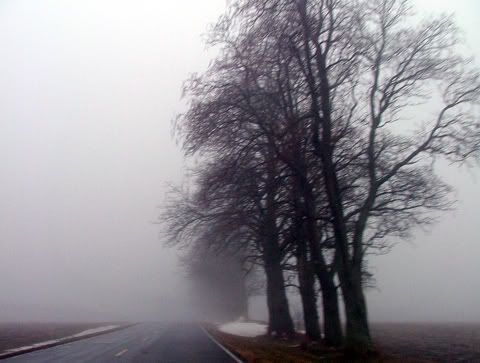 Old trees lean towards the east, forced off kilter by years of battering by the prevailing west winds blowing across the farmland.
Winter fog is bad enough, but there is something much worse, a white out. This could have been a white out, which means there's a complete snow cover, winter fog and then it starts snowing! I've been in one really bad event in my adult lifetime and that's enough for me.
The weather turned bad and we left work in an attempt to get home before conditions worsened further. I was hoping to navigate the back roads (empty of traffic) and found myself on a rural road in a white out. Roads, fields, sky were all one shade of white. It was starting to snow heavily and the only visible landmark was the small tops of fenceposts to the right. Mentally I tried to calculate the distance the posts would be from the road and navigated in that fashion.
I finally returned home safely, but it was certainly a white knuckly trip.