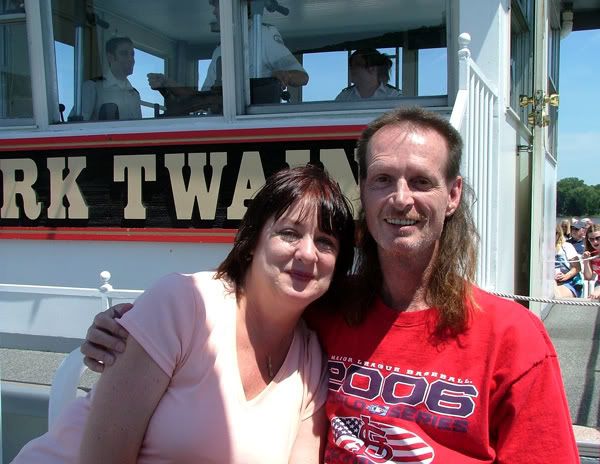 No trip to Hannibal, Missouri would be complete without a ride on a Mississippi riverboat. Included in our "Passport" ticket was an leisure afternoon aboard the Mark Twain. The weather was perfect and the river was beautiful. There isn't really much to see besides some islands and the grain barges headed to New Orleans.
We sat in a small forward area on one of the upper decks. The space was just large enough for 4 chairs and after a short while this couple came and sat down. This is Vicki and Joseph Miller from St. Louis. We had some good conversation and I discovered that they come to Hannibal a couple times a year, just for a weekend getaway. They join a large number of people who travel with their pets. Their cat was along for the trip.
It didn't take long to discover that Vicki and Joseph are two of those people who exude a generous spirit. We much enjoyed our time shared on the deck of the Mark Twain, the men drinking beers and the ladies concurring that THE drink is Tanqueray and tonic. Cheers to the Millers!