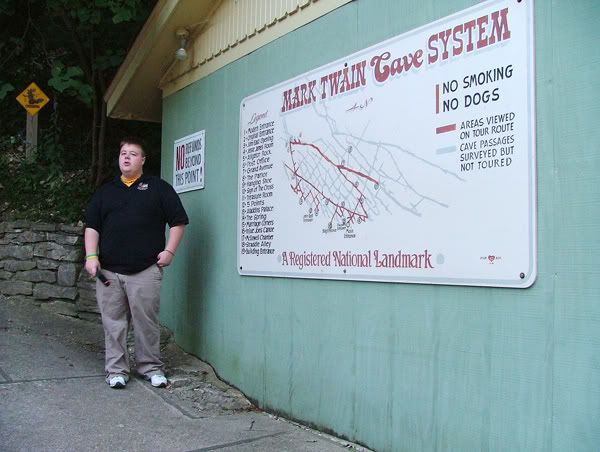 The farmer and I are of two minds when it comes to travel. We love eco-travel and adventure travel. One of our trips involved leap-frogging around Central America in a Cessna Caravan. Over a number of years we've been able to visit most of the major Mayan ruins in North America. With some connections we visited a small site that is not accessible to the public.
But we also love the good old fashioned touristy travel of our childhoods - think roadside attractions and alligator wrestlers. The trip to Hannibal, Missouri contained a few of those elements including a tour of Mark Twain Cave, alternately known in the brochures as Tom Sawyers Cave.
Hannibal has their limited number of attractions very well organized and if you visit Mark Twain's boyhood home first you can buy a "passport" that will save you some money and provide you with tickets to several combinations of attractions.
Pictured here is our cave tour guide, Sean. The young people who work these jobs, including the tour guide on the Disney World Jungle ride, have developed a way to combat the boredom of their jobs - they build a repertoire of really bad jokes. The Disney World tour guide almost found himself pitched overboard by the boatload of really cranky tourists who'd endured Disney's famous "hidden line". You probably know what I'm talking about.
We really don't mind the bad jokes but we're always looking for some good information to go along with the attempts at humor and Sean skillfully provided that.
Mark Twain cave is very different from other caves we have visited, most notably Mammoth Cave in Kentucky. Twain's cave is a series of twisting passages with no large open spaces. The formations are interesting and the air was nice and cool.
This sign says, No Smoking - No Dogs. What it doesn't say is "No Parents with Tiny Children and Strollers". Yes, as you can imagine a very small child would not be happy with the cave experience. And a stroller in the cave??? What are you thinking?
Mark Twain cave is worth a visit if you're in the area.