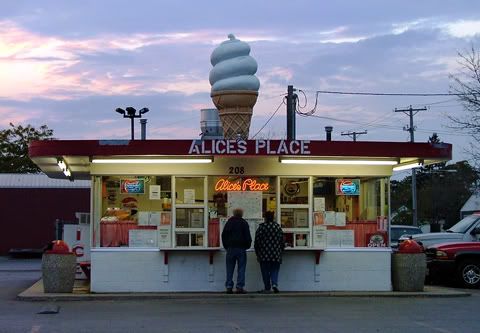 Tonight at dusk I drove over to Alices Place for one last turtle sundae. Todays the last day of the season and she'll be closed until next spring.
This is one of those small town operations. You can walk up front, order and enjoy your treat at an outside picnic table, or go inside and sit at one of her 8 stools. If you sit inside you can watch her cook at the tiny grill just behind the counter. Space is so tight that she's had to build a small refrigerated storage building out back to house her supplies.
Lots of high school students have worked the summer at Alices, it's a rite of passage and sure beats detassling corn.
With the commuter train coming in from Chicago in December, the nature of the town will change and become gentrified. Alices will give way to something on the order of a Cold Stone Creamery, where a hand mixed designer combination in a hand rolled waffle cone costs somewhere around 6 bucks.
Have a good winter Alice - see you in the spring!