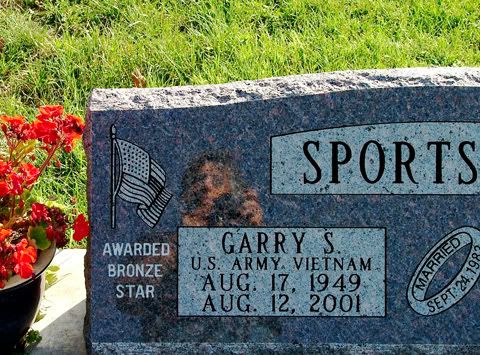 The thing about living in a small town is that you know just about everyone. That can be good and that can be bad. There's an intertwining of personal stories, a complicated interweaving of lives and relationships. Even if you don't know a person, chances are there's only one or at the most two degrees of separation.
It was a clear, beautiful morning, and on my way to run some errands I stopped at the Lily Lake Cemetery which stands at the top of a small rise at the edge of our small town. The highest point is at the back where the narrow paved path turns to curve back down to the road.
I stop and visit Cody's grave now and then. He was a high school friend of my daughters who was killed in car accident. I walked around and looked at the names on the headstones, all familiar - Eckstrom, Hanson and other names that represent founders of this farming community.
I spotted "Sportsman". I didn't know that Garry was buried here in Lily Lake. He was a co-worker of mine, a wonderful man. Garry was one of those guys who worked with a smile on his face (he was the maintenance man at our office building). He never complained, and was what you would say a quiet, simple man.
And here on his headstone was something I never knew about Garry. He served in VietNam and earned a Bronze Star. He was an honest and hard working man.....and he is missed.