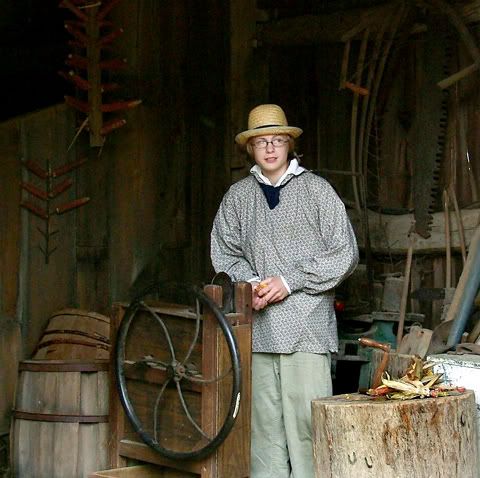 Early settlers could only work a piece of land that was matched in size to their ability to do the work involved. They first engaged in subsistance farming, producing just enough crop to support their livestock and their family.
New inventions allowed them to reduce the time needed for each chore, and this increased the size of land they could farm and crop they could process, creating a surplus. The surplus allowed them to move from subsistance farming to the marketplace.
This young volunteer (you gotta love kids that get involved in history) was operating a corn sheller. The whole corn cob was fed into the top, the wheel turned by hand which stripped the corn, feeding it into a box, and tossing the bare cob into a barrel.
I had my eye on those corn cobs. I'm fixing to whip up a batch of corn cob jelly!