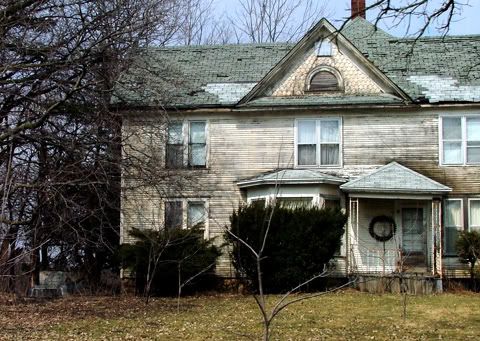 This old farmhouse has reached the tipping point where it's beyond redemption. The entire property is shockingly decayed and the barn and outbuildings are downright dangerous. A strong wind and the entire complex will simply collapse.
It takes a little imagination to picture this old farmhouse in its prime. The roof has been patched with materials that don't pretend to match. One of the upper windows has been replaced but perhaps that was just an attempt to forstall water damage.
The original porch would have wooden posts and some gingerbread in the corners. The bushes would have been trimmed back so that the occupants could have gazed at the road through the now hidden bay window. There's a lawn chair to the left where they would have sat drinking lemonade after a hard days work.
It's in an area that is being heavily developed and the condition of the house and outbuildings tell me that it's probably been sold to a developer years ago. The owners usually move on and renters take up residence and the property reaches a point where the decay progresses exponentially.