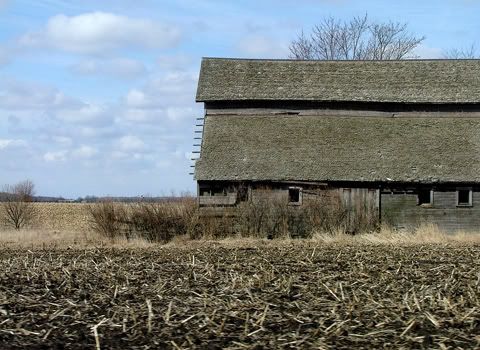 Barns and outbuildings are disappearing at an alarming rate. The destruction continues at an exponential rate. Without a job and with some time on my hands it might not be a bad idea to compile a photographic record before they all go poof.
Yesterday I drove past an area that I last visited about 8 months ago. My mind seemed to be playing tricks with me - wasn't there a big barn at that crossroads? It's gone with nary a sign that it ever existed. I do understand the danger involved in these old building but hopefully it was disassembled by the guy who deals in vintage barnboard. It may have another life.
This barn is near Big Rock, Illinois and it's getting close to that danger zone. It is a beautiful example of the gray patina of old barn wood. Hopefully it's still standing the next time I drive by.
NOTE: The counter says 98,816 visits and the 2-year anniversary at the farmer's wife is on April 9th. Please do your part to get us to that 100K mark by that date. Pass the link along to friends and family. Hopefully I can determine who the 100,000th visitor is and gift them with a jar of homemade jam or a piece of old barn wood.