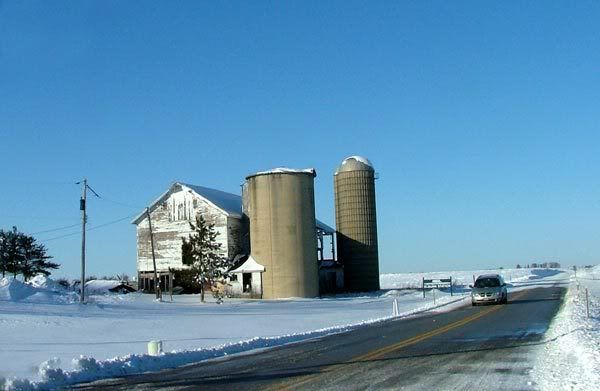 This barn looks pretty sturdy from this angle but the entire right hand side is gone, leaving a gaping space and the huge barn beams exposed to the elements. The road you see is the winding entrance to the new commuter train station and on the opposite side of the road (behind me) is a subdivision.
The other day reader Pablo observed that some of these juxtapositions are downright silly and he's right. It's like seeing ancient ruins surrounded by modern skyscrapers.
If we continue down the road a bit we come to the farmhouse, which has been standing empty for some time.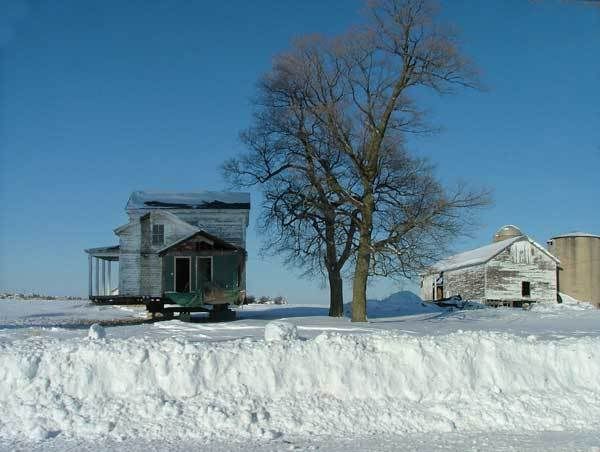 It's levitating on the prairie. Well, it's suspended on heavy beams preparing for it's move to a new location. This is a welcome sight to me because many of these farmhouses are simply bulldozed or burned as practice for the fire department. It seems that someone has determined the house has possibilities to live a new life in a new location. I can imagine it nestled in a sheltered rural setting.
The writing has been on the wall for many years as developers laid down their plans behind the scenes. Farming changed long ago and the dairy farms disappeared. Properties became rentals and then are abadoned as the timetable for destruction counts down.
The drama has played out in slow motion over many years but since I started this blog almost three years ago the old farms and outbuildings have disappeared at an alarming rate. You'd think that a tornado had blown through taking down only the old way of life sparing the new.
I'm thing about putting together a lenghty post or perhaps a series of "here" and "gone". Many, many of the wonderful places I've visited and photographed now exist only in memory, photo albums or pixels.
Jerry Johnson is a visionary who recognized the importance of preserving a way of life and a moment in time embodied in
Garfield Farm Museum
Hopefully there's someone who will feel as passionate about preserving a working fmaily farm or dairy farm which represented a whole chunk of our local history. Hope springs eternal.