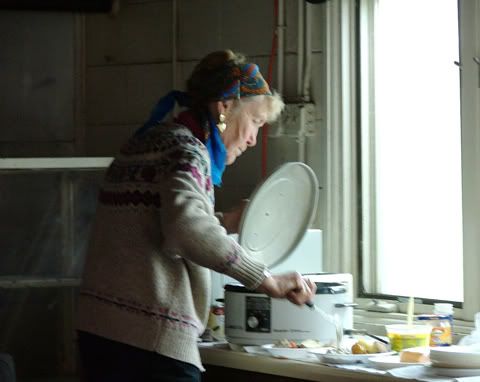 My husband assures me that every endeavor should have a mission statement. I guess they're not just for corporate American anymore!
A mission statement is in fact, a good idea. It states your purpose, defines your project and referring to it over time will help maintain your focus.
So I've thought a bit about my mission statement and why I started this project.
My mission is to record and produce a record over time, of the people and places that make up my community. Change is fast approaching and transforming our landscape and our lives even as we speak. My intention is to provide a platform for people all over the world to view this place and come to know the honest, simple and hard working people who have built our community and made it a strong and desirable place to live.
Already many of the barns, farmhouses and outbuildings have blown over or been paved over with new construction and retail development. All that remains are some images and memories.
This woman epitomizes the pioneer spirit and true grit that characterizes our rural community. I have the greatest respect for her and all those like her, who work hard every day, "getting it done". She's a local antique and estate dealer who cooks a wonderful lunch for those who help her in setting up her operation for a sale. The lunch is for the helpers, but she always provides free coffee and cookies for her customers. Not only does she run an antique busines, but she hauls hay to the animals and maintains a sizable rural property.
She's holding a sale at the Kane County Fairground building this weekend. She's always got some interesting things for sale so if you're in the area (northern Illinois) stop by and say hello.