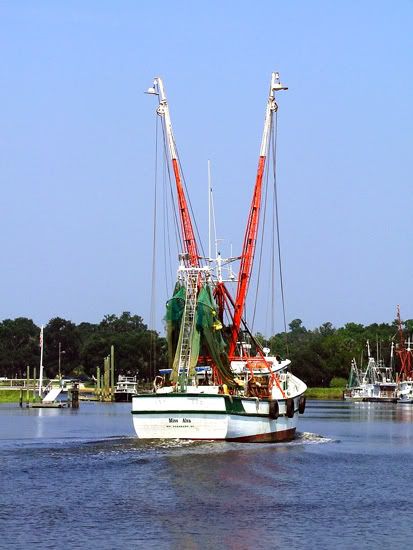 Our modus operandi when traveling involves striking out from a base camp set up in a large city or town. We enjoy what the city has to offer, but also drive the "blue highways", aptly named by William Least Heat-Moon in his book with the same title. Blue highways are the lesser roads on the map, off the main highways and interstates.
In February I cruised out of Orlando and drove north on blue highways to find Marjorie Kinnan Rawlings home in Cross Creek, Florida. On this trip to Myrtle Beach we headed down the coast to revisit a small town found on a trip 2 years ago. The blue highway headed east into McClellanville, South Carolina, and curiousity demanded an update as to whether the place had been touched by development.
Thankfully, the answer is no.....for now. It is still a sleepy little southern town. There's hardly a human being to be seen, this trip only a gentleman mowing his lawn, protected from the sun by a large hat reminiscent of a tobacco farmer. It appears to be the town that time forgot.
The air is as still as the dead, but thankfully the oppressive heat has lifted and the only sound is the rhythm of cicadas in the trees, with an aria provided by the shrimp boat "Miss Alva", motoring back to the safe harbor behind the town.
Standing on the tiny main street of town, you can imagine Scout swinging on the tire swing suspended from a gigantic live oak. Your imagination allows you to believe that any moment Boo Radley will come sauntering around the corner.
Thank God there are still McClellanvilles and blue highways.