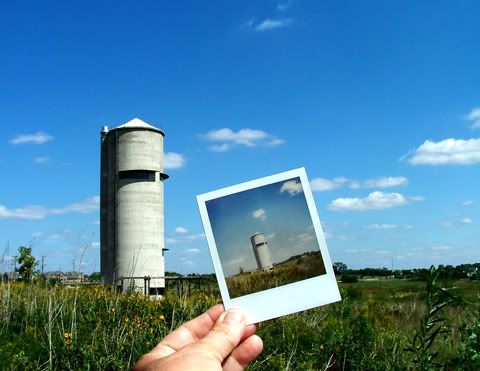 Pieces of the old country take on new lives as civilization moves in. Visionary people who seek to preserve a bit our history work hard to set aside land, and resources to maintain properties such as Peck Farm Nature Center.
One of the old barns has been converted to an interpretive center where visitors can view a short movie, the beautiful old Italianate farm house has been converted to offices for the overseers, and the old silo is now an observation center.
Three stories of circular staircase carry you to the top which rewards you with a breathtaking view of the area that has been set aside as a nature center. I am thankful for the large community of preservationists who work hard to maintain these properties.
I am also thankful for whoever came up with this photography genre. I like it - - and picked myself up a cheap polaroid in order to experiment. By the way, the view from the top is awesome!