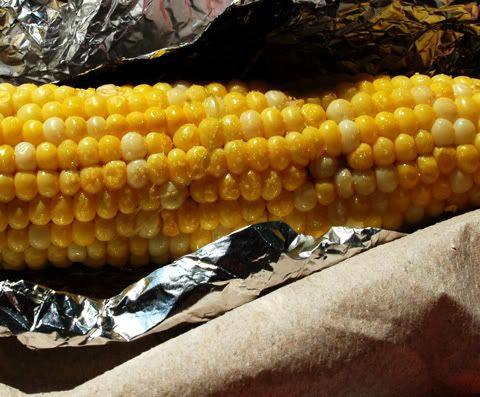 Summer around here means a flurry of festivals in the nearby towns. The "highly civilized" fests are making inroads, such as last weekends Festival of the Vine, a wine tasting/wine selling extravaganza that seemed to be as exciting as a three-day old helium balloon.
The king of festivals around here is still a race between the corn boils/cornfests/corn roasts and the pumpkin fests in the fall. In my book nothing beats a good corn boil.
Here's the food of the Gods from the Sugar Grove Corn Boil a while back. Notice the delectable sweet goodness topped with the just the right topping of butter and salt. The corn boil at the Steam Powered Threshing Bee featured the exotic addition of pepper. My personal favorite is roasted corn, and here's our recipe: Invite lots of friends and enjoy.
Roasted Sweet Corn
Large bushel of sweet corn
Large plastic garbage container with lid (NEW)
Heavy rock
Empty coffee can
3 lbs lbs of salt
3 lbs of butter
Early in the morning, or the previous evening, fill large container with water, add salt and stir vigorously to dissolve. Add the bushel of corn (un-husked) cover with lid and weight the top down with a heavy rock. Let stand overnight or all day.
Light the grill, and get the coals nice and hot. Put butter in the coffee can and position toward the side of the grill to allow butter to melt. Start taking corn out of the water and allow to drain. Put the corn on the grill and turn as husks get brown.
Peel back the husks, creating a handle to hold the corn. Dip into the coffee can of melted butter. Salt and pepper to taste. Provide lots of hand towels.
Enjoy!