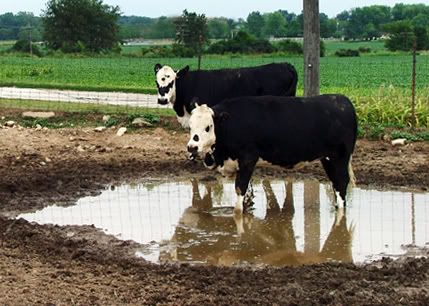 If you're searching for a good photographic model, look no further than a dairy cow. If you approach within 100 feet, they will turn to face the camera and stand stock still for at least 4 minutes. This allows you to make camera adjustments, change lenses, focus and take plenty of pictures.
At this point they go into motion....slow motion... ambling, sauntering, poking along to where you stand. Perhaps they're looking for a treat, although dairy cows are not normally offered treats in the manner of thoroughbred race horses. When they're determined you have nothing of interest for them, they move on....over to the mud puddle where the hog is wallowing.
In general, they are animals of good disposition, although occasionally one of them will get into a snit. I witnessed one who decided she'd charge across the milking room and
attempt
to jump through the barn window. What a mess that was. Have you ever tried to pry a cow out of a window frame? Don't try that at home.