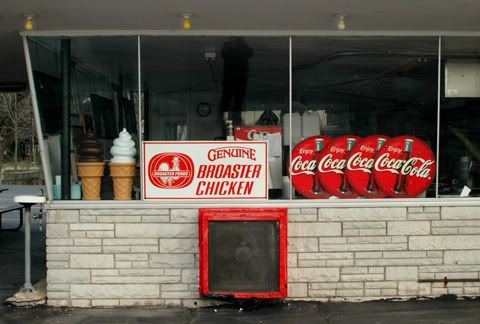 How many of us long to answer our wanderlust? We dream of walking away from our jobs, leaving behind mundane tasks and heavy responsibilities, hitting the road and filling days with exotic locales and experiences.
Personally, I never seem to tire of the tales - William Least Heat-Moon has forged a career out of road trips. Some, like AP writer Cal Woodward convince their bosses to underwrite the adventure in return for producing a story. Nice work if you can get it.
My photographer friend
Ron
has, in his words, "sold all his junk" and is hitting the road with his dog as company. He will head out of Chicago in the next couple of weeks to head across America in search of cool experiences and more junk (he's an antique dealer).
If he stops in my neck of the woods on his way out of town, I thought I'd treat him to dinner at Chick-N-Dip - just because broasted chicken is the best. Perhaps we can take in a high school basketball game, visit the Schramer's Black Angus beef operation or poke around an old barn. I need to give some thought about what would best represent my countryside.