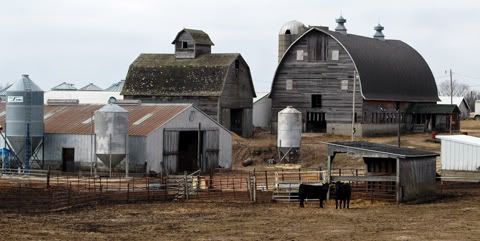 This large operation outside of Oregon, Illinois has always been a fascination for me. It's a huge jumble of barns, sheds, grain storage, vehicles and animals.
The property started with humble beginnings, perhaps a small cabin or farmhouse, and buildings were added as the operations grew. What stands in the spot now is a huge collection of farming "stuff".
As you travel west on Route 64 the flat expanses of farmland give way to the gently rolling hills leading to the dramatic Rock River Valley. The scale and expanse of the scene is always surprising as you round the bend.
Note: Cows and cattle are notoriously hams. Being inquistive by nature they always turn and look in your direction, in a kind of bored disdain, making themselves the perfect models.