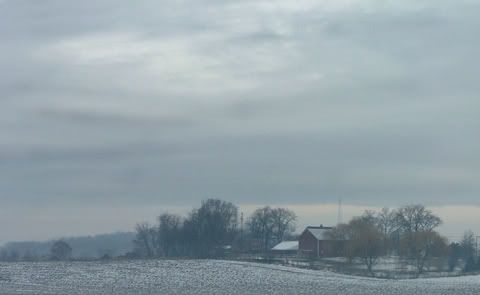 At this point in the midwestern winter it's difficult to conjure up a creative molecule, much less any creative juice. It's hard to remember why you choose to live in this place. So hard to remember the rows of corn the color of emeralds.
It's grey. Day upon day of grey. Overcast skies, heavily laden with the hue, smothering any color that might be impertinent enough to break through. It muddies landscape and erases the edges, everything puddling together
The book that Pablo suggested arrived in the mail today - "Giants in the Earth", by O.E. Rolvaag. It is promised to be a tale of Norwegian settlers gone mad on the prairie. I can read along as my mind deteriorates steadily in a soup of grey. The book was only a penny and a couple bucks for shipping. It's a paperback and the pages are aged as if the book had been steeped in a vat of strong tea.
Outside grey. More shades of grey than you ever knew existed. I list them in my head and soon I feel like I'm reciting the midwestern version of Forrest Gumps shrimp soliloquy.....
Grey the color of steel, squirrel pelts, mercury, an old felt hat, nickels worn with age, West Point cadet grey, glazed pottery, grey tinged with brown, stainless steel - no, that's refreshingly shiny. Grey the color of dull headaches. Grey upon grey, piled up in suffocating layers like heavy wool, making it difficult to breathe or even think. And so it goes.
Perhaps delving into the book about settlers gone mad will calm my soul. At last, someone worse off than me.