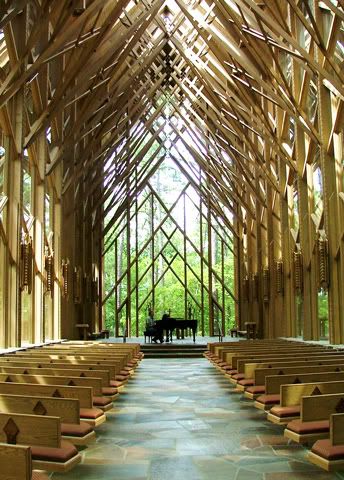 I was anxious to return to Garvan Woodland Gardens on this trip to Hot Springs. The last time I was in town they had begun construction of the Anthony Chapel designed by architects Maurice Jennings and David McKee who were associates of the renowned Arkansas architect Fay Jones.
The chapel has just been completed and there's a dedication ceremony scheduled on the day of my birthday!
There is no words to explain the feelings evoked as you approach the chapel on the beautifully crafted stone walkway. It rises out of the forest floor and soars among the treetops. The wooden beams are a nod to the vaulted ceilings of European cathedrals, but the walls and ceiling are all glass. It all looks too impossible.
I've given some thought to the feeling of standing in this structure. We never think about it, but buildings have a mass and feeling of enclosure that is palpable. The thing is you don't realize that this is true until you're standing in a space that seems to have none of those elements.
You're in a building - your mind and eyes tell you so, but it "feels" like you are simply standing in the forest in a grove of beautiful trees that have been planted in a strict geometric pattern.
If you find yourself anywhere in the vicinity of Hot Springs, Arkansas, you simply must check this out. And yes - that's a Steinway grand piano on the altar.