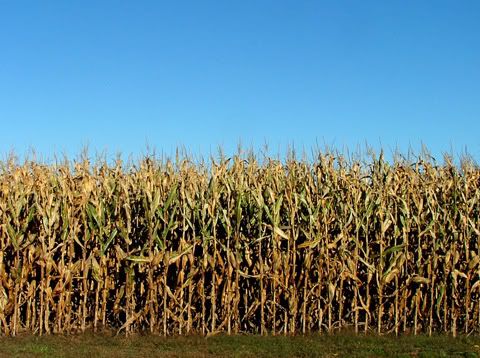 Fall is upon us and the corn crop is approaching time for harvest.
It's also corn maze time. All over northern Illinois the agri-tourist industry is growing and family farms are creating a little business on the side by offering pumpkins, hay bales, honey, jams & jellies and a chance to make your way through a corn maze.
Last year some friends from the Chicago Photobloggers group make the trek out from the big city to spend a grey and chilly afternoon in a maze in Elburn. It was disappointing because the drought had severely affected the crop which was so short you could see over it. That didn't make for much of a challenge. When the corn crop is it's normal height a corn maze can be very disorienting. For that reason you're given a flag in case you really get lost and panicked.
I remember the scene in the movie Signs, when Mel Gibson's character and his brother go running willy nilly into the corn field. Everyone in the small town theater had a big laugh at that. It's not something you'd do unless you were prepared to spend a couple hours finding your way back out.