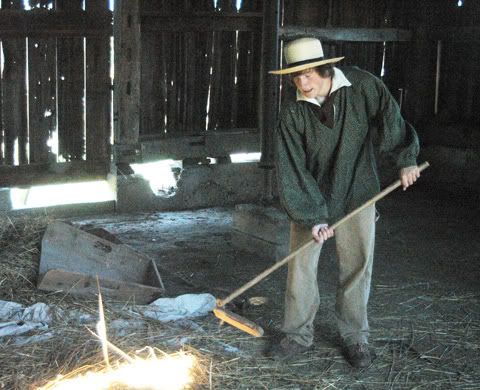 In the days when my grandfather and great-grandfather were farming peanuts and cotton in the Florida panhandle the rule of thumb was that a man with a good mule could plow an acre a day.
My friend Ellen quickly computed that it would take a third of a year to plow a 100 acre plot of land, which of course made it impossible for a family to farm large tracks of land. The labor involved in harvest was equally daunting until the invention of the steam engine and mechanized farm equipment.
This volunteer at Garfield Farm Museum is demonstrating threshing wheat by hand. That length of wood has a free-swinging piece on the end that would flail the wheat and separate the grains of wheat from the stalks. The wheat grains would fall to the bottom.
That left wheat grains that needed to be separated from the chaff, which is paper thin and lighter than the actual grain. The wheat would be loaded into this box and tossed into the air. This method depended upon a windy day, which would blow the chaff away, leaving only the grain.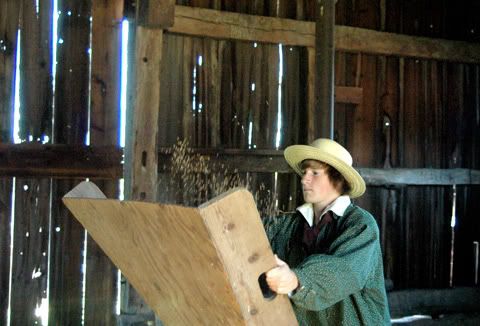 All you had to do was to process enough grain to send off to the grist mill for grinding, and only then could you make a loaf of bread. Oh.....AFTER you gathered the eggs from the henhouse.