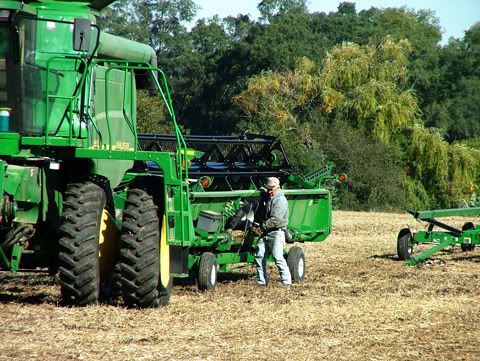 This farmer readies his equipment before resuming the harvest of soybeans in LaFox.
Many of these men have been farming their whole lives. Some in the Burlington area were refugees from the late 60's-early '70's development push into Schaumburg. They moved west and now development has followed them once again. Most are at or near retirement age so moving on to another farming community is out of the question.
On Monday evening farmers were out in the nearby field late into the night. They were attempting to get the beans in before the forecasted rain and possible snow. A race against time. Unfortunately for me combines do not stand still to have their pictures taken, but believe me it was a dramatic sight. The combines chugged across the field, spotlights illuminating the rows of soybeans, kicking up clouds of dust and chaff from the plants. Closer.. closer.... to the end of the row, and a perfect turn, heading back up towards the cemetery.