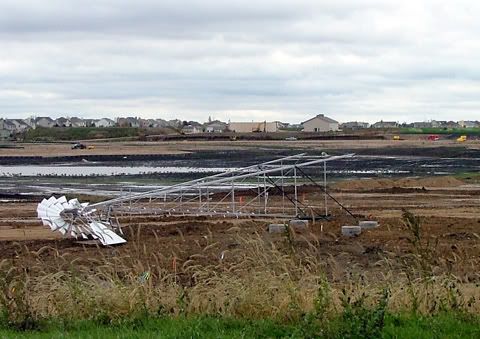 Last fall this was a harvested soybean fields. This year it's the site of frantic construction efforts to create a subdivision of new homes. You can see homes in the distance, creeping northward.
Last year there were barns and silos. Those were demolished in one morning. the oak trees were dispatched in one afternoon. The farmhouse was isolated and eventually moved.
And now, in a most ironic move, the developer has had a windmill delivered. Not the honest-to-goodness workhorse of old farming tradition, but a sleek silver Hollywood movie prop kind of windmill. It's to stand at the entrance of the subdivision to visually complete the sense of why people will be moving here.....everyone's dream to live in the country.
The dream will tarnish a little come next spring when residents start writing letters to the editor about the layers of dust on their cherrywood dining sets when the still-farmed fields to the west are plowed. They'll discuss the smell coming from the field as the farmer spread manure, and howl in objection as their small pets are snatched by coyotes as they allow them to run unattended in their yards.
I've overheard people saying that country life ain't all it's cracked up to be......depends upon your expectations.