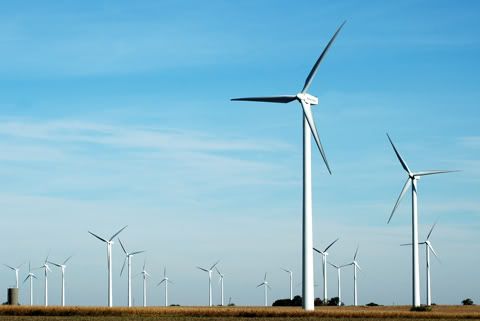 Yesterday I took a field trip out to Paw Paw, Illinois where there's a new crop on the landscape. These huge modern day windmills blanket the landscape, standing amoungst the corn crop.
They do make a sound, kind of a low key whoosh. The energy produced here is not consumed here however. Just for a point of reference, that's a 2+ story silo at the far left of the frame, standing next to one of the windmills in the distance.
It was an absolutely beautiful day. The last time I did some photography here it was bitter cold. I drove along the gravel roads looking for just the right spot to take a photo of a farm on a hillside with the windmills all around. I drove up and down the road looking for just the perfect view. Then I got out and walked, framing the image in my mind - 2 feet in this direction, 3 feet back, over a step or two. After taking a couple shots I looked down and directly at my feet was the lens cap from another photographer's camera. Guess we all think and see somewhat alike.