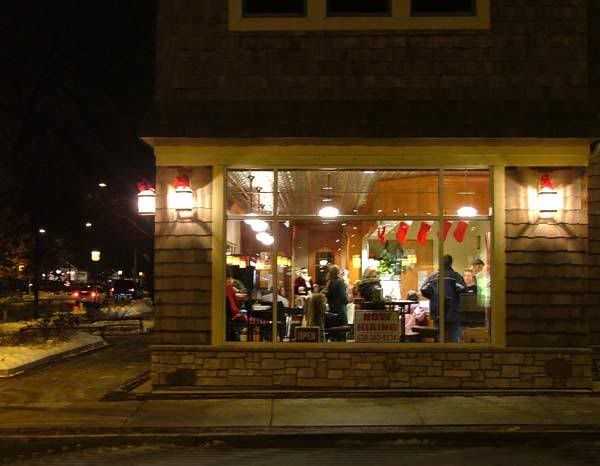 You might think that our community is only about abandoned buildings, barns and livestock, but that's not true. There are some lovely towns nearby and I've always found the original downtown areas to be more to my liking that the manufactured shopping experiences of the mall variety.
Once a year at Christmastime the city of Geneva, Illinois holds its Christmas Walk. All the shops are open late and most have refreshments and special treats. The police block off Third Street, allowing the throngs of people to shop and mingle without traffic.
Chicago Hyatt Regency's pastry chef Alain Roby and his lovely wife Esther organize a Gingerbread House competition that raises money for charity. (More about that later. The farmer's son and I have an entry!)
I really appreciate the wonderful independent restaurants in our area. They're a class unto themselves and so much more interesting than chain restaurants.
As I was walking around shooting photos I came across this scene. It emphasises the fact that our community is truly about people and the lives they are creating.
MEME ENTRY: Remember when I said yesterday that I'd been tagged by Betty Western? Her meme assignment is to list 7 random facts about yourself. It seems wierd to be doing this because my photoblog has never been about me, it's been about th elocal culture, environment and community. So here goes:
It occurred to me when pondering about what facts people might find interesting, to do it from the perspective of my children. Think about it for a moment. Did you ever imagine that your parents were actually interesting people in their own right, that they were once young and vibrant and had adventures? I know I didn't think of my parents in that light. So I've chosen 7 facts that break the farmer's wife out of the boring wheat-bread-baking model.
Fact number one: At one time in my career I held a top secret clearance with the U.S. Government.
I can literally hear my children rolling on the floor in laughter. Remember the movie "True Lies"? Yeah right, mom was a spy???? Not a spy but during the Vietnam war I worked in the publishing field and our company has a contract to produce spec and repair manuals for the U.S. Air Force jets. During a time of war working with information to do with military hardware required a top secret clearance. You can imagine my mother's suprise when F.B.I. agents appeared on her doorstop as part of the clearance process.
If any young people are reading this I challenge them to question their parents about interesting and unknown facts about them. Only after my father died did I learn he was on board his Naval ship in the Sea of Japan when the instrument of surrender was signed with the Japanese.