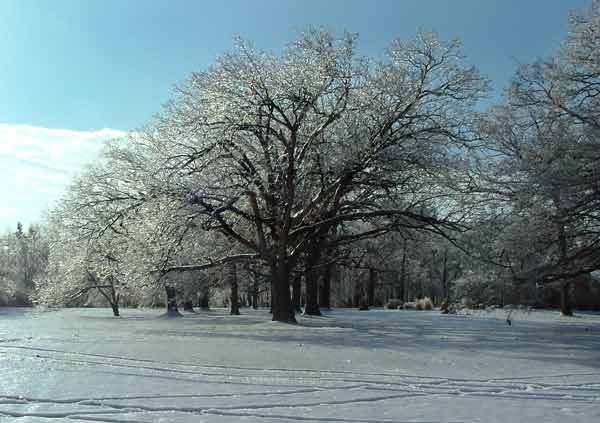 Everything is covered with a layer of ice which reflects the light and transforms the landscape into a magical fairyland. All is not sweetness and light beacause many trees have been damaged by the ice.
When I say that everything is covered, that means everything. Every blade of grass and cattail, every tree, every piece of corn stalk stubble. I'm not knowledgable as to whether the ice causes damage due to what I will call the "magnifying glass" effect. If any knows, please share.
Recently Alicia over at
Posie Gets Cozy
wrote an entry about her memories of beautiful snowfalls and all things winter wonderful in the Chicago area. This of course is my stomping ground as we are 50 miles due west of Chicago. I was transplanted to Texas for four years and I can relate to her longing for the beautiful Christmas eve snowfall, the special snowfall of crystal diamond snow. The Eskimo's have many, many words for snow and if you live in snow country you can relate.
Anyway, thinking about Alicia's story helped me to realize that when you live "away", you remember only the beautiful, precious and magical memories of winter. Your brain selectively forgets the difficulties, dangers and sometimes dowright ugliness of the season. Think greyish black slush everywhere and roads drifting over with 5 minutes of the snow plow's pass.
It doesn't matter because I'm all about selective memory loss! So here's an image for all those midwesterners living afar and trust me that it's literally impossible to capture the spectacular beauty of the scene with a camera.
MEME Fact #5 - I'm the first person in my father's side of the family to be born outside of Florida. There were among the first white settlers. I'm the first person in my mother's family to be born outside of Tennessee. My great-great-grandfather and his four brothers were given land around Charlotte, Tennessee as partial payment for their service in the Revolutionary War. I'm a hybrid...a northerner by birth but a southerner by tradition.