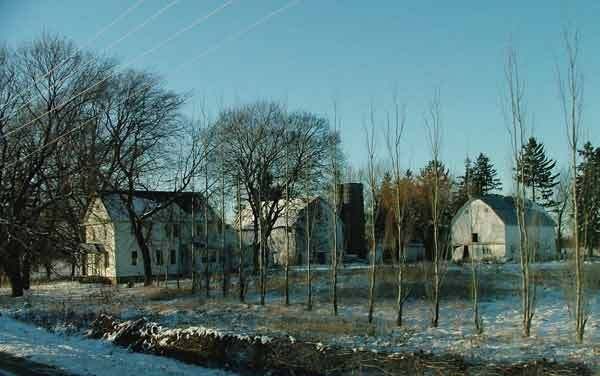 Here's yet another abandoned farm in our area. It did find a second life a couple years ago when it was purchased by a religious group (Hindu, I believe) that used it as a gathering site and community center for young people. It was nice to see it revitalized and alive with activity.
I'm not quite sure what happened, perhaps the group found another more suitable site, but this property was once again abandoned and is waiting for either demolition or revitalization.
MEME FACT #2 - Remember, I've been tagged by
Betty Western
to complete a list of 7 random facts about myself.
I was clunked over the head by one of anthropology's icons - Margaret Mead.
As a young undergraduate studying anthropology I was put in charge of organizing a dinner in Margaret Mead's honor. She was slated to speak at our school on one of her lecture tours and after the lecture the anthropology department would have a chance to meet and greet her at the dinner.
The lecture went off without a hitch and I approached Mead to escort her to the dinner venue. She looked like something out of a Grimm's fairy tale, short and stout in a voluminous cape that trailed behind her in the wind. She carried a large walking staff, think Gandalf the Wizard in the Lord of the Rings. Her countenance should have given me a clue to her general disposition but being young and so enthusiastic about meeting one of the field's icons I blindly charged ahead. I wondered about her crabby nature. Her active career was over and she had been relegated to the task of lecturing and holding up her image without a chance of building upon it, perhaps that made her crabby.
I was interested in how an anthropologist goes about choosing who or what they will ultimately specialize in. Since my great-grandmother was a Seminole my interests were focused on the American Indian culture. And so, in my youthful exhuberance I turned to Mead and asked, "Why did you choose to study the Samoan culture and not work with the American Indians?
"I wouldn't work with the Indians, they always want something in return." To which I replied, "Gee, I wonder where they learned that."
Her reaction came quick and sharp as she turned slightly and hit me over the head with her large walking staff. Ouch! I'd just been assaulted by my icon!
"Impertinent!" she declared. And there I was faced with a crabby legend with feet of clay (at least in my eyes).
Years later I became friends with renowned anthropologist and author Ellen Fitzsimmons Steinberg. When I recounted my long-ago encounter with Margaret Mead, she laughed out loud.
"You're not anyone unless Mead has rapped you over the head!" she said.
It seems that it was Margaret Mead's modus operandi and I learned that she had not
chosen
to work in Samoa, but had been sent there by Franz Boaz.
Ellen Fitzsimmons Steinberg is a truly giving woman who has created a fascinating life for herself in the field of anthropology - - a truly admirable icon. Be sure to check out her books on Amazon.com.