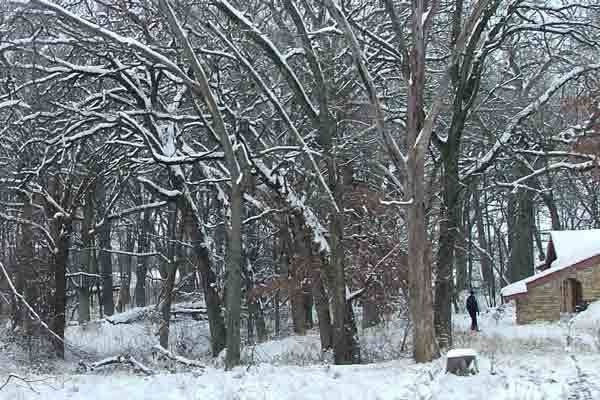 We live in a very small community. The most excitement in recent times was when the Pierce's baby Jesus was stolen from the nativity scene in their front yard, and the flag-waving, top-hat wearing hot dog figurine was stolen from the hot dog place about 2 miles from here.
Although I photograph alot of abandoned farms, there are some fairly modern properties that are also abandoned. The most visible one lies 1/4 mile from our home. It was once a beautiful and well kept home of an unusual architectural design. About 10 years ago I was working nights and at any time of the night the television would be burning bright in the family room. A perpetual bluish glow streamed from the windows. Then it became apparent that the house was empty.
There seemed to be a caretaker living in the coach house a short distance from the main house. Cars began to accumulate in the space between the two buildings. Nature went about the business of reclaiming what was rightfully hers. Fences fell into disrepair and the large area in front of the house took on the look of a wild prairie. Christmas decorations hung frozen in time for years and years. Huge trees along the roadway died and stood like ghostly sentinels, threatening to flatten passing cars in the event of a strong wind.
At some point it became apparent that the caretaker was gone. That's when things truly went wild. Sheriff's police started showing up regularly. No one knew the nature of the trouble but a couple months ago they led someone away in handcuffs. Squatter?
Today as I turned out onto the main road four Sheriff's cars flew by lights flashing but without sirens. As I approached the dip in the road which marked the beginning of the property I counted five police cars and more approaching fast from a distance. The woods are deep between the house the the stream to the west. Standing around the house were at least 5 officers with what appeared to me to be guns drawn. Can you see one in the photo above?
No word yet what difficulty would draw such a force but it should be in tomorrow's newspaper. Stay tuned.