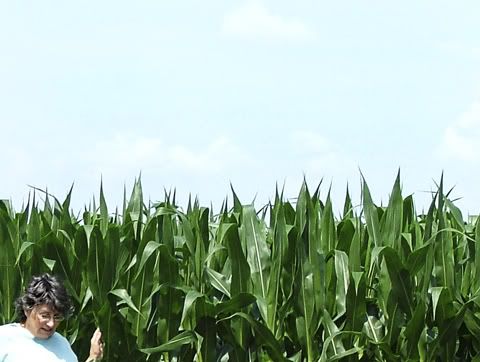 The old saying goes, the corn should be "knee high by the Fourth of July".
At the beginning of June that was in doubt. The corn wasn't growing very fast. But recent rains caused a growing spurt.
My good intentions were to get a young child to stand in the corn field for a photographic shoot. Pictures of corn mean nothing scale-wise unless there's some point of reference. A cute young kid would have been a great reference. The nieces and nephews were otherwide engaged in fun Fourth of July activities. Likewise the neighbor kids, although I can imagine the parents pondering the request....."You want to drive my kid over to the Swanberg cornfield and do what?"
Lacking any outside cooperation I set the camera on the timer, propped it on the trunk of the car and pushed the shutter. Next I ran across the roadway and attempted to position myself in a pose with the corn. What am I looking at? I'm looking at the shallow ditch at the edge of the field. This soon-to-be-60-year-old is trying not to fall in the attempt at photo taking.
Anyway, here's the corn. I'm 5 foot 6 inches tall, so as you can see it's certainly bigger than knee-high. Here at the Farmers Wife we will probably spend alot of time in the next couple of months watching the corn grow. Regardless of what you might think, it's an exciting activity.
Here's a Corn Cam - bookmark it and watch along as the corn grows!
Corn Cam