The heat and humidity have been oppressive the last couple of days. The heat index reach 105 degrees today. We all watched the weather report with a mixture of hope and dread. This afternoon it was reported that a cool front would be moving in this evening, and that can mean serious trouble. Deadly hot weather followed by a cold front spawns tornados.
A couple hours ago lightning appeared in the distance, growing ever closer. Thunder rolled across the fields of corn. Lacking the thousands of dollars of lightning-triggered camera gadgetry I propped my camera on a clay pot aimed at the neighbors house and shot frame after frame after frame after frame. Well, you get the idea.
A little shaky effort, but this will give you an idea of the drama of the light show.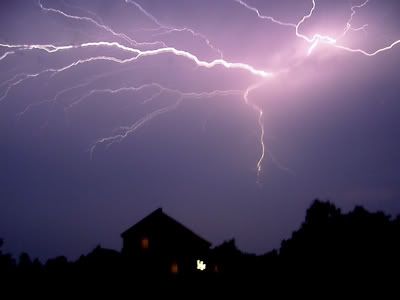 The following photo is not what it appears.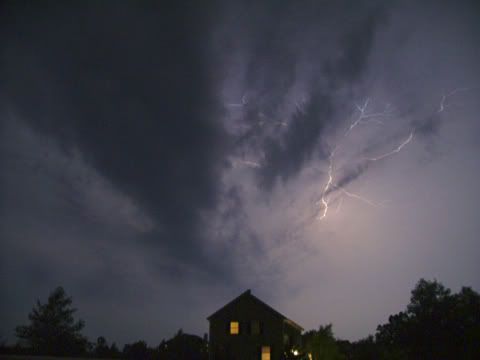 It is not a twister bearing down on the neighbors house. The air was calm and this triangular shaped cloud was backlit by the lighting bolt.
The evening is not over, and we never quite sleep soundly on a night such as this. We're listening for freight trains.....