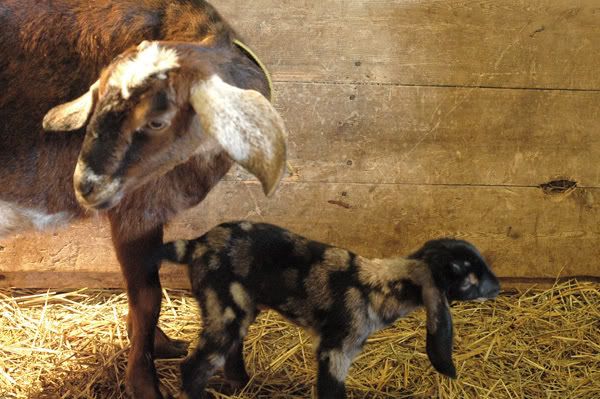 Today was my first visit to
Heritage Prairie Market
which is an extension of
Erehwon Farm
. This is the latest entry into the growing number of community supported agricultural operations. They offer subcriptions to a share of the farm's produce and each week you can pick up your fresh veggies and herbs.
There's a lovely shop filled with wonderful things including products from a local family dairy, handmade soaps, fresh produce and more. The farm is open for people to observe the operation with rules to keep everyone safe. Be sure to visit if you find yourself in northern Illinois in season.
Co-owners Beth Propst, Tim Fuller, and Bronwyn Weaver and her husband Bob Archibald are responsible for the wonderful operation. Beth was kind enough to alert me to the newest member of the farm family - a baby Nubian goat born this morning at 6:30 a.m. And since it's Cinco de Mayo they have tentatively named her Esperanza. Here's the proud mom Daisy and her wobbly kid. Esperanza tried to navigate the small pen but the workings of her hind legs were still a mystery and she kept lurching backwards.
Happy Birthday Esperanza and happy birthday to our Chihuahua Pancho. (A chihuahua born on Cinco de Mayo - how perfect is that?)