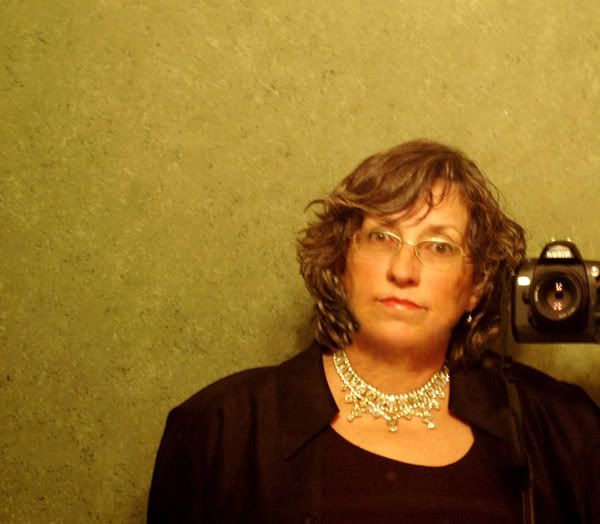 Two years into the blog and today the photobucket (literally and figuratively) came up empty. Tomorrow evening I'll have tons and tons of photos to edit because tomorrow is Garfield Farm's annual Rare Breeds Show. There's going to be some Irish Bog Ponies in attendance but I'm hoping for more
Southdown Baby Doll Sheep
.
The only image I've got from yesterday is a self-portrait taken as we walked out the door to a local soiree. I did post another portrait once, standing out in the
corn field
to provide scale as to the height of the corn.
I wouldn't post this portrait except for the fact that there's funny little story that goes with it and I was able to do some non-invasive plastic surgery in Photoshop.
The neighbors decided to have a wine tasting party and since we're often accused of not having alot of culture out on the prairie she decided we should put on our best night-at-the-opera clothes.
So I donned my basic black dress and dragged out the seldom worn jewels, in this case some of my favorite vintage 1950's Kramer rhinestones purchase on Ebay. I slipped into my very fashionable black mules with kitten heels (sorry I've been watching too much Style TV) and applied lots of goo to my hair so that when I stepped out into the northern Illinois monsoon winds I wouldn't have an instant bad hair day.
Grabbing a cute little evening bag with nothing but a lipstick inside, I was ready to go. The husband had the car ready to go and I stepped out for the evening feeling "swell".
Ooooops! When I crossed the threshhold there was my little tractor staring me in the face. I'd forgotten to put it away when I finished my yard chores.
YES
- the farmers wife had to climb aboard the tractor in her adorable kitten heels, and with rhinestones blazing in the light of the setting sun drive the tractor back inside.
It's all in a days work. Anyway, I'm please to meet you.